Route 2009
Route 2005
Tibet: By jeep from Chengdu to Lhasa
Tibet is known as The Roof of the World!
General information
Tibet is located on the Tibetan Plateau , the worlds highest region. The worlds highest mountain, Mount Everest, is on Nepalese border with Tibet. The average altitude is about 3000m in the south and 4500m in the north. The land comprises the largest and highest plateau in the world, surrounded by immense mountain chains. The mountain chains are approximately 3000km in length, accommodating no fewer than fourteen peaks taller than 8000m. Mount Everest (Mount Qomolangma in Tibetan), at 8848m, is the most well known. The perilous mountain areas, deserts, swirling rivers and steel-blue lakes, the many yaks, and all the wonderful places and people give the impression that time has stood still.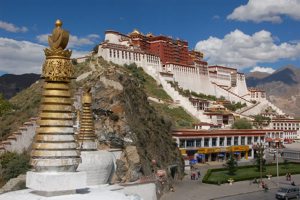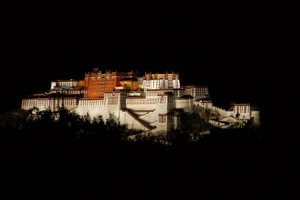 There are over 800 settlements in Tibet, Lhasa is Tibets traditional capital and the capital of Tibet Autonomous Region. In Lhasa, situated at 3650m, tourists can visit the amazing Potala monastery, a world heritage site. Once the largest building in the world, the Potala is an impressive piece of construction thirteen stories high, with nearly one thousand chambers. The building occupies a footprint of 300 x 400 m and stands about 120 m tall. It was formerly the residence of the Dalai Lama, but he fled to Dharmsala, India in 1959 during a bloody war between the Tibetan and Chinese people, and the Tibetans still consider him their leader. Other well-known monasteries include the Jokhang and Drepung temples, both well worth visiting. The climate around Lhasa is very different from the areas closer to the mountain chain, with an average precipitation of no more than 200 mm. Due to this aridity, there is little vegetation and the area appears desert-like. Further south, toward the mountain, there is more precipitation and the flora is more diverse.
Several major rivers have their source in the Tibetan Plateau (mostly in present-day Qinghai Province). These include Yangtze, Yellow River, Indus River, Mekong, Brahmaputra River, Ganges, Salween and the Yarlung Tsangpo River.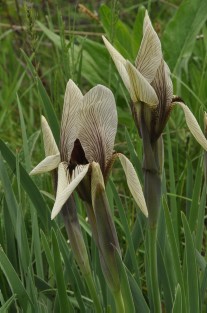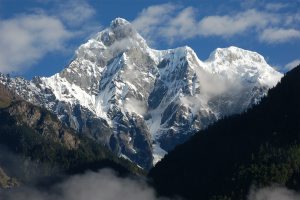 Botanical Jeep Tour from Chengdu to Lhasa
Due to recent problems in Tibet and the Olympic Games, I was not sure I could travel to Tibet for a planned inspection tour in Summer 2008. Tibet was closed for foreigners and there was also a massive earthquake in Sichuan which prevented travel to Chengdu. In July I received an e-mail stating that it was possible to travel to Lhasa again and John Mitchell, my son, Mischa and I booked our flights to Chengdu.
3 weeks later, a message arrived from the Chinese travel agent saying it was possible to travel to Tibet, but only by air or train, not overland by jeep, as we did hoped. Since we had already booked the flight, I planned a new route through Sichuan province. Then, just two weeks before our departure we heard it was possible to travel overland from Chengdu to Lhasa, which was great news for us! My Chinese agent arranged all the necessary permits, eight different ones in all, including a military permit. At one of our checkpoints in Tibet, inspectors told us we were only the third group to receive permission to travel overland to Lhasa, which shows how much work and planning the agent devoted to smoothing our way.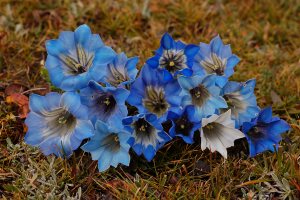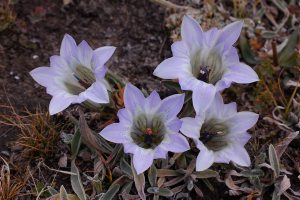 The inspection tour ran from September 16 – October 2 and allowed us to scout for interesting botanical sites, check out hotel accommodation and measure travel distances. I must say that hotel accommodation are not like those of recent years in Yunnan or Sichuan, but much better than expected, even most hotels had western seat toilets, only a few had the French style squat toilets, and most of the hotels had also a shower.
The inspection tour was a great success, and we were able to see all we wanted, plus more locations. We traveled to unknown passes, had wonderful weather, and saw masses of plants, including many Gentians in full flower. In addition, the views were spectacular. We saw all three giant Chinese rivers: the Yangtze, Mekong, and Salween, as well as the giant mountains Minya Konka/Gongga Shan and the spectacular Namchak Barwa (7756m).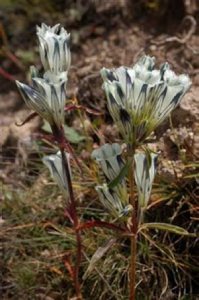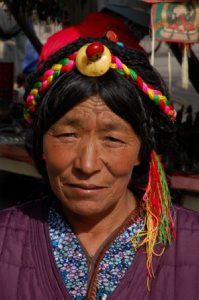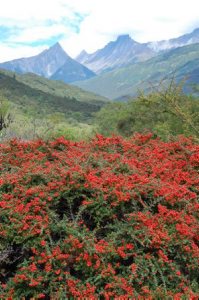 We did also see alpine meadows at 4000m, with many yaks grazing, and amazing plants like the very rare yellow Androsace bisulca var. aurata. Of course we paid several visits to monasteries, including the community in Litang, and the Jokhang and the magnificent Potala Palace in Lhasa.
For more Tibet images 2005 trip click here
For more Tibet images 2008 trip click here
For more Tibet images 2009 trip click here
For more Tibet images 2019 trip click here