Greece Peloponnese
The Peloponnese is a peninsula located at the southern tip of the mainland and constitutes the southernmost part of mainland Greece. It is connected to the mainland by bridges as the Corinth Canal was constructed in 1893 which is just over 6 km long and 23 m wide.
Next to some very interesting historical sites, there is a wealth of flowers to be seen in the Peloponnese in the autumn (between October 23rd and November 5th).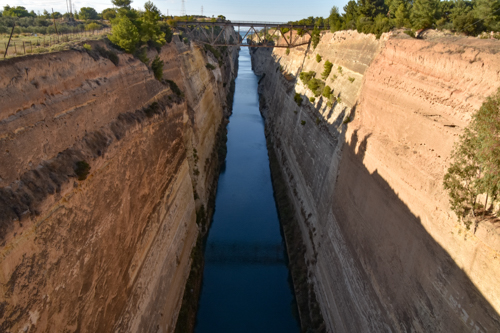 Good locations to use as your base to start daily trips are Mystras (with Ancient Metropolis of Mystras) close to the Taygethos Mountains and more south, on the coast, the lovely town of Gytheio.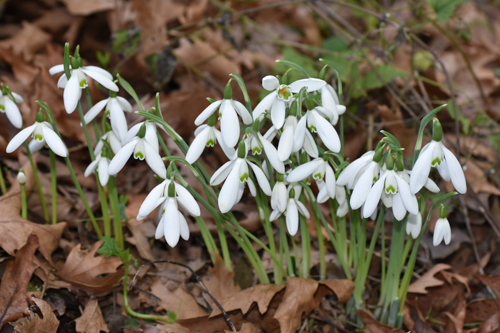 The Taygethos Mountains are the home of the autumn flowering snowdrop, Galanthus reginae-olgea. They grow here under large Platanus orientalis trees and very often near small streams. In the same area just away from the shade of the trees, you can find Crocus boryi, Colchicum parlatoris and Cyclamen graecum.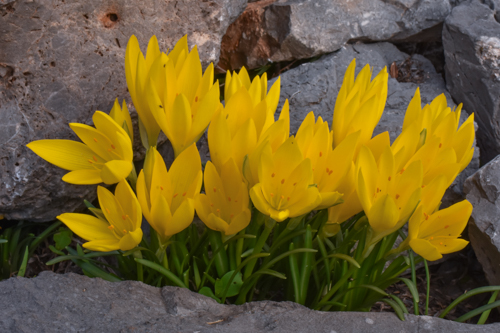 Monemvasia is also worth a visit. It is an island-like irruption of rock and the medieval seaport and commercial centre of the Byzantine Peloponnese. Its modern mainland service town is called Yéfira, from which a 1km causeway takes visitors out to the medieval site. Divided into the inhabited lower town and the ruined upper town, it's a fascinating mix of atmospheric heritage, careful restoration and sympathetic redevelopment. Monemvasia has lovely shops and good restaurants. If you want to see some nice flowers you need to climb up the rock. On top you are able to find Sternbergia lutea, Colchicum cupanii and Cyclamen graecum.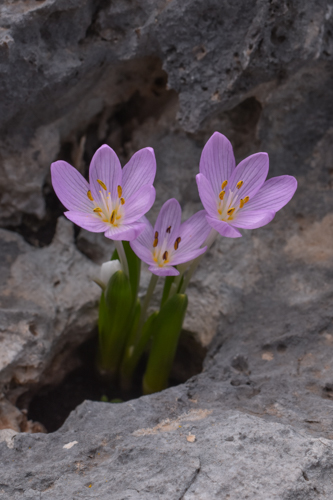 The southernmost peninsula of Greece is called the Mani with Cape Ténaro at the tip of it. Here just a few meters from the sea, among the remains of a mosaic floor at the site of the ancient town of ancient Tainaron, are masses of Cyclamen graecum, Colchicum parlatoris and Atractylis (Carlina) gummifera.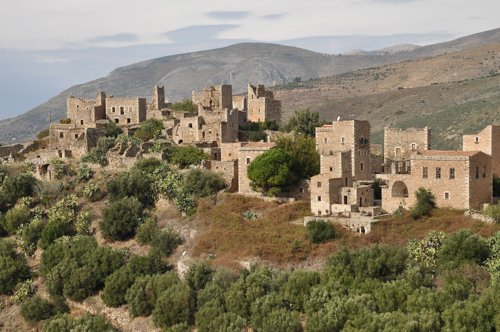 The old village of Vathia is well known and almost published in every Mani publication. It has almost become a symbol of the peninsula with its stone houses and towers like small bastions. The village is built on a high hill, with a super view toward the sea and with roads going around it.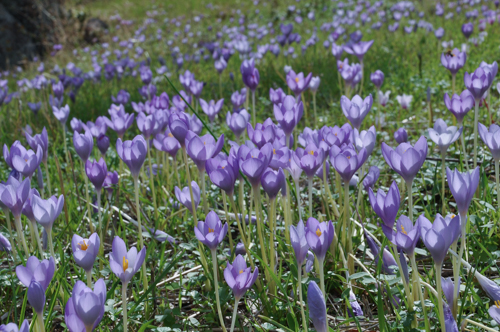 Areas very worth to visit for plants are Areopoli, Foutia and Lambokambos. All these three villages are well known for Crocus goulimyi ssp. goulimyi or the special white form Crocus goulimyi var. leucanthus.
For more Peloponnese images click here