Guilin
Guilin is situated in the northeast of the Guangxi Zhuang Autonomous Region on the west bank of the Li River. Its name means forest of Sweet Osmanthus, owing to the large number of fragrant Sweet Osmanthus trees located in the city. The city has long been renowned for its unique Karst scenery which is a landscape shaped by the dissolution of a layer or layers of soluble bedrock, usually carbonate rock such as limestone or dolomite. Along the 100-kilometer stretch of the Li River, mountain peaks rise into the sky. It is one of China s most famous scenic areas. The area is about 28km2 in total and has a subtropical climate.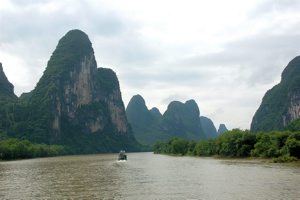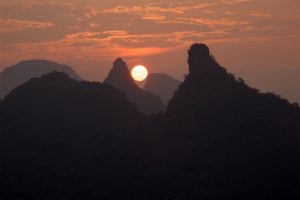 Next to a cruise on the Li river from Guilin to Yangshuo (2-3 hours), you should bring a visit to the Reed-Flute Cave: a limestone cave with a large number of stalactites, stalagmites, stalacto-stalagmites, rocky curtains, and cave corals. But one of the main symbols of Guilin is Elephant-Trunk Hill: a hill that looks like a giant elephant drinking water with its trunk. If you take a close look, the scenery from the twenty Yuan bill is that of the Li River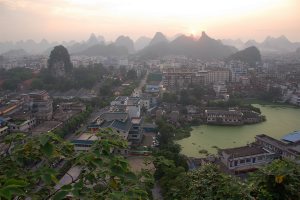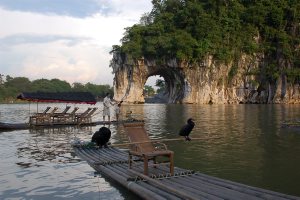 Yangshuo
Yangshuo town is surrounded by karst peaks and bordered on one side by the Li River it is easily accessible by bus or by boat from nearby Guilin and has good hotels. Over the years, it has become popular with foreign backpackers and it is a nice place to stay. Visitors to Yangshuo can swim in the Li River or the cleaner Yu Long (Dragon River), climb one of the many nearby karst peaks or hire a bicycle for a cycling trip through the karst scenery. Additionally, there is a butterfly cave near the town and a number of cave systems. Yangshuo is also China s foremost venue for rock climbing, with around 300 bolted routes and several companies offering guiding and equipment hire. With mountain biking and kayaking becoming more popular, Yangshuo is becoming an adventure sports centre as well as a stop on the traveller s trail.
Most of the original culture of the town has been absorbed into the tourist industry. For example, you can pay a fisherman with cormorants to watch him go fishing with them. You can also pay local women, in traditional ethnic dress, to pose for photographs.
Anyway: Guilin, Li River and Yangshuo is a must see area in the world, dispite the many tourists.
For more Guilin images click here